Push Notifications
Configure your notifications by:
Going to your Account Menu

Tap on Settings

Tap on Configure Notifications

Here you can configure the preferences you want for Dividends, Bank Transfers, Orders, and Price Movements
On iOS:                                                                 On Android: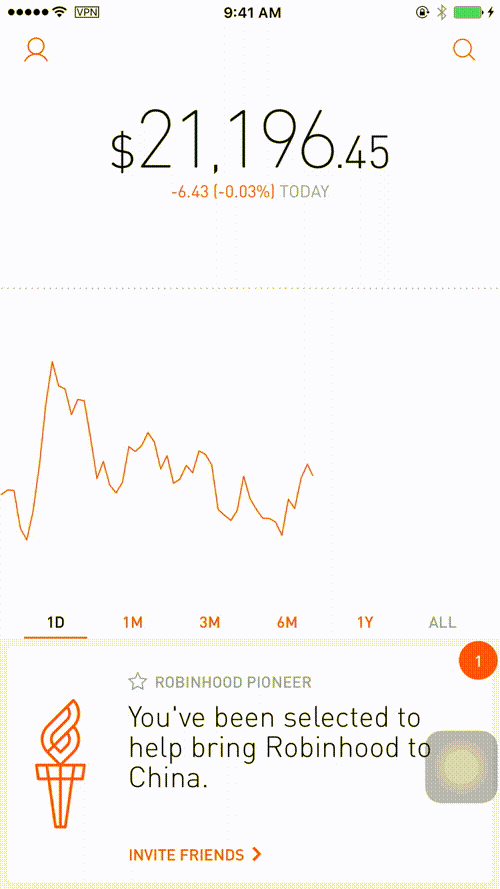 Tapping on push notifications to go the related part of the app. For example, tapping on an Order Executed notification will bring you to the order detail page.
Touch ID and PIN
You can set a lock time interval to allow immediate access to your Robinhood account without using your Touch ID or PIN. To adjust this setting, tap the Account icon in the upper left corner of the Robinhood home screen, select "Settings", then 'Touch ID and PIN'. You may then view the optional time intervals by selecting 'Require Authentication'.
iOS Notification Center Widget
On the 'Today' screen in iOS Notification Center, scroll down to the bottom and hit 'Edit'. Tap the green plus symbol next to Robinhood and hit 'Done' in the top right.
Android Widget
To set up Robinhood on your Android home screen, tap and hold on the location in the home screen you wish to insert the widget, then select Robinhood.
Apple Watch
Robinhood for Apple Watch is a natural extension of the experience you're familiar with on iPhone. With a flick of the wrist, you can glance at your portfolio, view your watchlist, and when you need to, make an investment. Our app also includes a tiny countdown until market close.
First, make sure you have downloaded Robinhood on your iPhone. To set up Robinhood for Apple Watch, simply go to your Apple Watch app on your iPhone and enable Robinhood.
You can turn on or off Robinhood notifications on your Apple Watch by going to the Apple Watch app on your iPhone.