Robinhood Instant is a free upgrade that allows you to:
Get immediate access to funds from selling stock. That means you can reinvest those funds without waiting two days for settlement.
Use up to $1,000 of your pending bank deposits right away. This allows you to increase your buying power instantly.
Robinhood Instant is Free
Robinhood Instant is free because we want it to be accessible and useful to all kinds of investors, newbies and experts alike. That means there are no charges to upgrade, no maintenance or subscription fees, no trading commissions, no account minimums, and no interest charges of any kind.
Account Type
We use a limited margin account type offered by our clearing partner to power Robinhood Instant. This allows us to credit your account the exact amount of your stock sale during the three day settlement period. You may learn more about stock settlement here.
Keep in mind that because these are limited margin accounts, you'll be subject to margin account regulations while using Robinhood Instant, including those on day trades.
This is not a traditional margin account. You will not be able to borrow more cash than in your account (leverage) or sell stocks which you do not own (short sell). While traditional margin accounts have the risk of incurring a loss greater than your account balance, we have specifically designed Robinhood Instant to avoid that possibility. That being said, we plan to offer these features-- leverage, shorting, and options-- in the future, but those will require separate upgrade processes.
Instant Deposits up to $1,000
Once you've got Robinhood Instant, we'll make the first $1,000 of your pending deposits available instantly. You can view your pending deposits in the History section of the account menu.
If you have more than $1,000 in pending deposits, the first $1,000 will be available as buying power instantly, and the rest will be available in 4-5 trading days upon transfer completion. Once your transfers complete, you'll have access to up to $1,000 of instant buying power again. Keep in mind that Recurring Deposits count toward your $1,000 of instant buying power!
Examples:

Ex. 1: You initiate a $1,000 deposit on Monday, and it's available instantly as buying power. When your deposit completes on Friday, you initiate another $1,000 deposit, which is instantly available as buying power.
Ex. 2: You initiate a $1,500 deposit on Monday. $1,000 of your deposit is available as buying power instantly, and the remaining $500 is available on Friday.
Ex. 3: You initiate a $500 deposit on Monday, a $500 deposit on Tuesday, and a $500 on Thursday. Your Monday and Tuesday deposits are available as buying power instantly, and your Thursday deposit is available as buying power on Friday once your Monday deposit completes.
If your deposit reverses, you will need to make another deposit to cover your purchase(s) as soon as possible. You may learn more about transfer reversals here. Since we allow instant buying power on the good faith that your transfers will go through, you won't have access to instant buying power after a transfer reversal. If this happens, please submit a support ticket.
High Volatility Stocks and Protection
We believe that democratizing access to the stock market also brings the responsibility of making our customers aware of excessively risky behavior. To help prevent a poor investing experience on Robinhood Instant accounts, we have added a protection based on regulatory guidance for day-trading high volatility stocks.
High volatility stocks include:
Low dollar value (<$3.00) stocks. Given their low price, they are at at high risk of being delisted from the exchanges.
Leveraged ETFs. These securities are rebalanced daily and decay in value over time.
The actual list of high volatility stocks changes day to day, as it is based on a variety of factors, including the price, etc. We may release a feature make these securities easier to find and to make this protection easier to understand.
The protection means that:
Funds from sale of a high volatility stock will be available the day after the sale.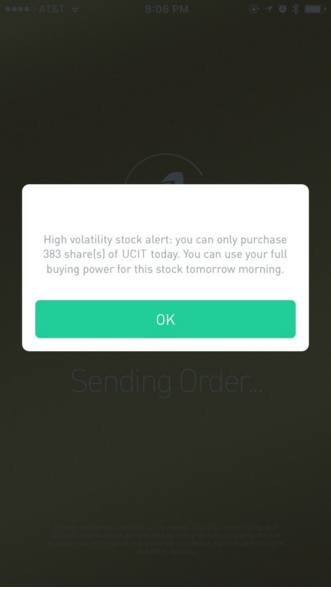 You will need to use funds from the previous day to buy one of the high volatility stocks.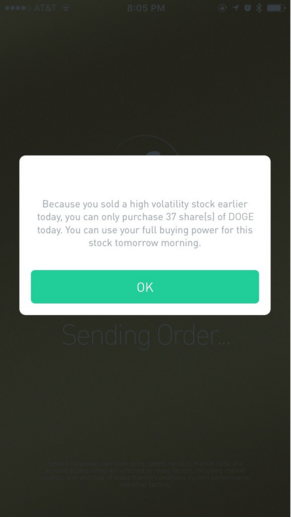 Both Day Trade Protection and High Volatility Stock protection are for you to consider your investment goals and risk tolerance when trading, but they are not the same. Day trading protection applies to all stocks, while high volatility protection only applies to a limited number of stocks on Robinhood.

Disabling the High Volatility Protection
You're not able to turn this off, unfortunately. We anticipate this protection will lead to a better investing experience, which is why we have turned it on for all new Robinhood Instant accounts. We plan to reevaluate the ability to turn it off after we have a larger data set of trading behavior with Robinhood Instant.
Note that so far we've seen this affect only ~1-3% of Robinhood customers.
Downgrading from Robinhood Instant
You can downgrade to a traditional Robinhood cash account by submitting a support ticket with the following information:
Confirmation that you have $0.00 in unsettled funds and no pending transactions. You can view your unsettled funds in the Account section and your pending transactions in the History section of the account menu.
Your feedback on why you no longer want to use Robinhood Instant.
Your understanding that you might not be able to re-upgrade to Robinhood Instant at a later date.
Once we have your email, we should be able to downgrade your account within a few business days.